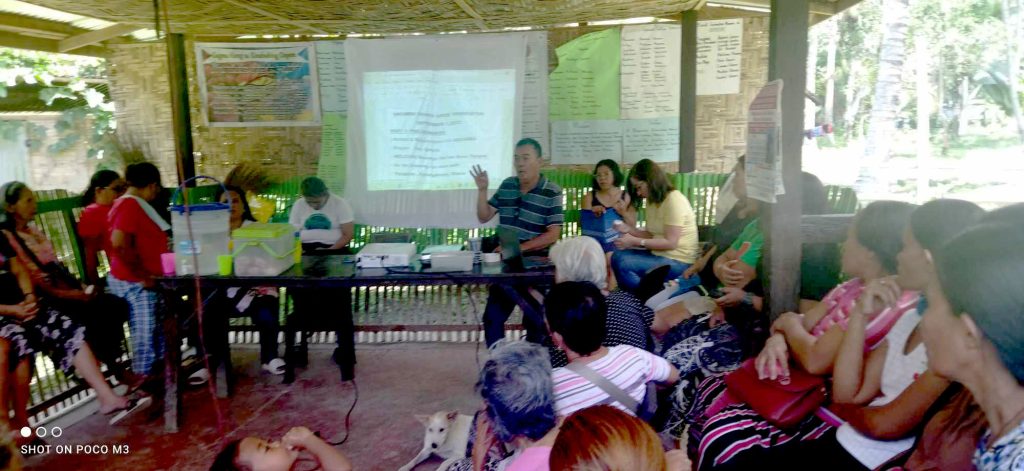 In 1978, the Department of Agrarian Reform extended a lifeline to 63 farmworkers, gifting them with 1.5 to 3 hectares of Guiang Estate's land in Brgy. San Isidro in the town of Sta. Maria, Davao Occidental. These fortunate farmer-beneficiaries would later become the heart of the Guiang Estate Agrarian Reform Beneficiaries Association- GECARBA.
On September 1, 2023, a consultation workshop was facilitated by the Integrated Rural Development Foundation (IRDF), their partner institution in the Coconut Resiliency Project in Mindanao. This workshop served as a beacon of hope for GECARBA, guiding them to uncover their priorities and define a tough program of action.
GCARBA members, primarily composed of strong-willed women, came together in the workshop to address critical aspects of their lives: Socio-Economic, Socio-Political, Socio-Cultural, and Environmental.
Despite the government's various programs, a staggering 90 percent of their fellow villagers languished in poverty. Beneath the swaying coconut palms, lies a less attractive reality… farmers are poor and have no steady income. Poverty clings to the lives of the coconut farmers.
Coconut farmers are hardworking individuals, laboring under the tropical sun, who find themselves trapped in a harsh cycle of economic hardship. Coconuts, hailed as the "Tree of Life" have long sustained the Philippines' economy. Despite this, farmers grapple with meager wages and unpredictable yields. Climate change has only worsened their plight, with frequent flooding and longer hot seasons due to El Nino. Limited access to modern farming methods and exploitative middlemen and traders worsened their struggles as copra and nut prices plummeted in the years 2019 up to the present forcing farmers to mortgage their land and sell other remaining assets in the farms and more disheartening is when the family decided to stop sending their children to school. Traders preyed upon farmers by depressing further prices to less than PHp 4.50 per kilo of whole nut or less than PHp 17.00 per kilo of copra in very recent years. As traders' capital and assets expanded, farmers wallowed in P3000/month income below PhP8,379/month (2022) food threshold of a family of 5 and further below PhP12,015 (2022) poverty threshold of a family of five.
The Socio-Political discussion unveiled the bitter truth – farmers had been relegated to the shadows of prioritization, lacking clear policies and feeling abandoned by the government and politicians they once supported. Even more concerning was what transpired in the socio-cultural aspect was the decline in values among the youth, ensnared by the allure of social media and online games. This decline led to older farmers toiling the land alone. More youth in the farming communities are disinterested in farming and many find themselves in the service industry…leaving the lands to aging parents and relatives.
Effects on the environment: Due to too many chemicals, farmland suffers in a world dealing with global warming. The chemicals harm soil, water, and biodiversity, and contribute to carbon emissions. Switching to eco-friendly farming is vital for farming and climate change. This reality was not an isolated case for GCARBA members. Yet, GECARBA's spirit burned brightly, and their recommendations illuminated the path ahead. Strengthening their organization, expanding opportunities for better livelihoods, and ensuring food security through drought-resistant crops like cassava, ube, and the prized breadfruit (kolo) would spearhead farm diversification efforts.
They pledged to champion local government ordinances for waste management and tree planting. Moreover, they would embark on a livelihood project to valorize abundant coco husks, transforming waste into a precious resource that could augment their income. Amidst adversity, their resilience shines. Communities band together, and organizations offer support, igniting hope for a brighter future.
Through passion and unity, GECARBAI and IRDF aimed to rewrite their story from poor struggling agrarian reform beneficiaries to progressive men and women farmers nurturing their land and community and securing a bright sustainable future for all.
On the onset, 15 certified organic coconut farmer members from the association has been delivering to organic nuts to Franklin Baker, thus they are under the IRDF-FB-Danone-L3F consortium and 39 coconut farmer members also delivering nuts to Franklin Baker under the IRDF-FB-MARS-L3F consortium. On top, GECARBA is now exploring the potential opportunities for engaging in the coco husks chipping enterprise under the IRDF-BIOGROW-DANIDA consortium.
IRDF's project to rebuild the livelihoods of coconut farmers under different consortiums IRDF, L3F, MARS, DANONE and Franklin Baker, and under IRDF, DANIDA and BIOGROW sought to promote economic growth of farmers and create more resilient and progressive coconut farming communities by effectively eliminating poverty and despair within their communities.